On Tuesday 24th January 2017 the International Parliamentarians for West Papua and the Free West Papua Campaign hosted the official launch of the Global Petition for an Internationally Supervised Vote in the Palace of Westminster.
Co-founders of the International Parliamentarians for West Papua, Lord Harries of Pentergrath, and Andrew Smith MP, chaired the event with Benny Wenda, Spokesman for the United Liberation Movement for West Papua; human rights activist Peter Tatchell; and the Swim for West Papua team, all speaking to honour the occasion.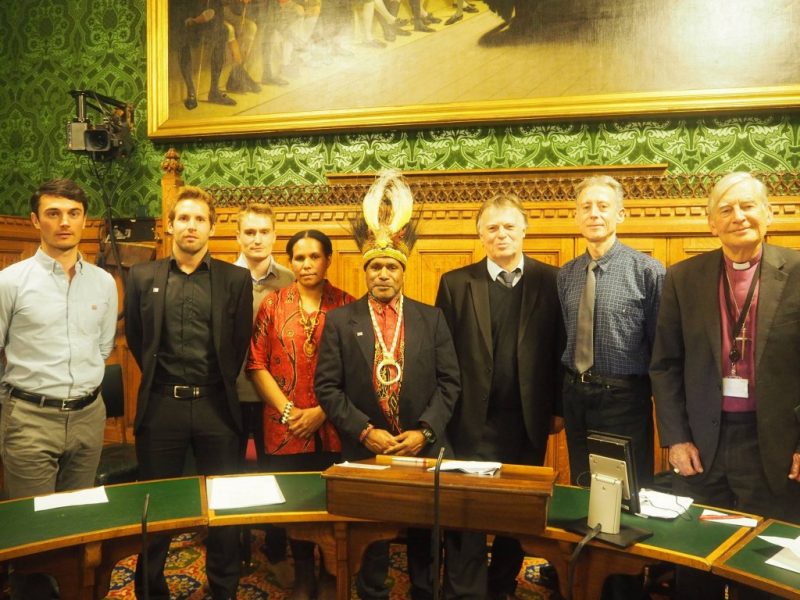 While the declaration is to be signed by state representatives, the petition is to be signed by everyone else, who supports West Papua's right to self determination. The petition will be run globally for 8 months until August 2017, when it will be presented by a British team of swimmers who are swimming 69kms across Lake Geneva to hand the petition to the UN.
The global petition is a vital grassroots effort to support the principles of the Westminster declaration for an internationally supervised vote for West Papua.
There is a dedicated campaign where people can follow the campaign and swimmers here; @BacktheSwim & #LetWestPapuaVote
We hope that the petition will receive the deserved attention it needs to ensure that the West Papua's urgent human rights situation, and a review of the illegal "Act of Free Choice", is returned to the UN agenda urgently.
The petition reads as follows;
As concerned citizens from around the world, we call on you to urgently address the human rights situation in West Papua and to review the UN's involvement in the administration of West Papua that led to its unlawful annexation by Indonesia ‐ and the human rights abuse that continues today.
We call upon you to:
Appoint a Special Representative to investigate the human rights situation in West Papua;
Put West Papua back on the Decolonisation Committee agenda and ensure their right to self‐determination ‐- denied to them in 1969 -‐ is respected by holding an Internationally Supervised Vote (in accordance with UN General Assembly Resolutions 1514 and 1541 (XV)).
Please sign the petition.
If you are an elected MP or state representative please also sign the Westminster Declaration.
More information can be found at the Free West Papua Campaign website.