[Bahasa translation below]
Twenty-nineteen is becoming the worst year in nearly six decades of illegal Indonesian occupation. Massacres and violence are being carried out as a direct result of the additional 16,000 Indonesian troops deployed since August. The UN High Commissioner for Human Rights must visit West Papua now, and the Pacific Islands Forum must help secure this.
This year marks a new phase of Indonesian State brutality against the people of West Papua. Indonesia has aimed for the total elimination our peaceful struggle for self-determination, and is imprisoning and killing our children, high school teenagers and university students to do it.
At the beginning of the uprising on August 15, a seven-year old child was arrested by Indonesian police. On September 3, a West Papuan woman, Sister Mandabayan, was arrested for transporting small home-made Morning Star flags, forced to leave her one- and three-year-old children behind. Last week, a one-year old baby and a ten year old Papuan boy were killed by the Indonesian State. Yesterday in Wamena, Indonesian occupation forces fired into a crowd of high school students who were protesting yet another act of colonial racism directed against them by an Indonesian teacher. In Jayapura, students occupying the University of Cendrawasih were killed by the Indonesian military, police and intelligence services, backed up by Indonesian nationalist militias.
In Nduga, dozens of children and infants have died during Indonesian military operations that have displaced around 40,000 Papuans. Parts of Nduga have become ghost towns, with schools empty, churches burned and the Papuan people forced into the jungle. Hundreds of children remain in makeshift schools far from their homes, unsure if their villages will even still exist when they return. Indonesia is criminalising, attacking and killing the children of West Papua in order to maintain its brutal occupation of our land.
This year, West Papua is becoming the next East Timor. The 1991 Santa Cruz Massacre is being repeated in our land right now. The 16,000 additional Indonesian troops deployed to my home land are not their to protect my people – they are there to use violence, harassment and intimidation to maintain Indonesian control over the territory. West Papuans are risking their lives just to utter the words 'referendum', 'self-determination' and 'independence', words of freedom.
This is the time for the UN High Commissioner for Human Rights to visit West Papua, in line with the Pacific Islands Forum communique released on August 16 this year. I'm calling on President Widodo to allow the UN High Commissioner in. The time for this visit it now: no more delays. The crisis is taking place as you read this.
I send my deepest sympathies to the families who suffered losses yesterday, and across the past month and year. My people back home, you are showing great courage and sacrifice for the cause of justice and peace. The ULMWP is working tirelessly night and day with Pacific and Melanesian leaders, particularly the government of Vanuatu, to bring our struggle to the world's attention, and we are making great progress. Our victory will come; justice will prevail. Let us unite to fight peacefully for freedom and liberation for all, including the many West Papuan generations to come.
God bless you all.
Benny Wenda
Chair
United Liberation Movement for West Papua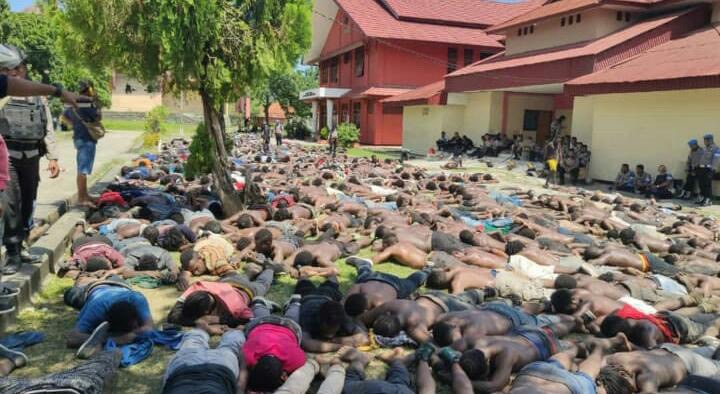 ---
Ternyata 2019 menjadi tahun terburuk selama hampir 60 tahun pendudukan Indonesia yang ilegal di Papua Barat. Pembunuhan dan kekerasan masih terus terjadi, dan merupakan hasil langsung dari penurunan 16000 tentara tambahan dari Indonesia sejak Agustus kemarin. Komisioner Tinggi HAM PBB harus dating ke Papua Barat sekarang, dan Pacific Islands Forum harus membantu memastikan ini bias terjadi.
Tahun ini menandakan mulainya tahap baru dalam kekejaman yang dilakukan pemerintahan Indonesia terhadap rakyat Papua Barat. Indonesia menargetkan kehancuran total perjuangan damai kita untuk bisa menentukan nasib sendiri, dan berusaha mencapai target itu dengan memenjarakan dan membunuh anak-anak kecil, remaja dan mahasiswa kita.
Seorang anak berusia 7 tahun ditangkap oleh polisi Indonesia di awal perjuangan 15 Agustus. Tanggal September 3 kemarin, seorang perempuan Papua Barat, Suster Mandabayan, ditahan karena membawa bendera Bintang Kejora kecil yang dia buat sendiri. Dia terpaksa meninggalkan anak-anaknya yang hanya berusia 3 dan 1 tahun. Minggu lalu, bayi berusia 1 tahun dan anak kecil berusia 10 tahun dibunuh oleh pemerintahan Indonesia. Kemarin di Wamena, aparat Indonesia menembaki massa anak SMA yang berdemonstrasi menentang rasisme gaya kolonial yang diarahkan kepada mereka oleh seorang guru Indonesia. Di Jayapura, mahasiswa yang menduduki Universitas Cendrawasih dibunuh oleh tentara, polisi dan intel Indonesia, dengan dukungan ormas nasionalis radikal Indonesia.
Di Nduga, puluhan anak kecil dan balita tewas karena operasi militaer Indonesia yang juga sudah memaka sekitar 40000 orang Papua melarikan diri dari rumahnya. Sebagian Nduga seakan menjadi kota hantu. Sekolah-sekolah kosong, gereja dibakar, dan penduduknya dipaksa mengungsi ke hutan. Ratusan anak terpaksa belajar di gedung sekolah sementara yang jauh dari rumah mereka. Mereka tidak tahu apakah kampung-kampung mereka akan tetap ada saat mereka bisa kembali. Indonesia aktif mengkriminalisasi, menganiaya dan membunuh anak-anak Papua Barat agar bisa terus menjajah dan menduduki tanah kita secara kejam.
Tahun ini, Papua Barat menjadi Timor Leste yang baru. Peristiwa Santa Cruz tahun 1991 sedang diulangi di tanah kita pada saat ini juga. 16000 tentara tambahan yang ditugaskan ke tanah airku tidak dikirim untuk menjaga rakyat Papua Barat – mereka di sana hanya untuk menggunakan kekerasan, penganiayaan dan intimidasi untuk mempertahankan kuasa Indonesia atas tanah Papua Barat. Rakyat Papua Barat mempertaruhkan nyawa mereka hanya untuk mengujarkan kata-kata seperti 'referendum,' 'penentuan nasib sendiri,' dan 'kemerdekaan,' kata-kata yang mencerminkan keinginan bangsa Papua untuk bebas dan merdeka.
Saya mengucapkan duka cita yang amat dalam kepada keluarga-keluarga yang kehilangan kemarin, dan juga mereka yang kehilangan selama bulan dan tahun yang terakhir. Rakyat Papua Barat di kampung halaman, kalian semua menunjukkan keberanian dan pengorbanan yang hebat demi mencapai keadilan dan perdamaian. ULMWP bekerja keras, siang dan malam, bersama dengan pemimpin dari kawasan Pasifik dan Melanesia, terutama dengan pemerintahan Vanuatu, untuk membawa perjuangan kita ke hadapan dunia. Di dalam hal ini, kita mengalami kemajuan yang pesat. Kemenangan kita akan datang, dan pada akhirnya keadilan pasti akan menang. Marilah kita bersatu untuk berjuang secara damai demi kemerdekaan dan kebebasan semua orang, termasuk generasi-generasi Papua Barat yang berikutnya.
Semoga Tuhan memberkati dan melindungi kalian semua.
Benny Wenda
Ketua ULMWP