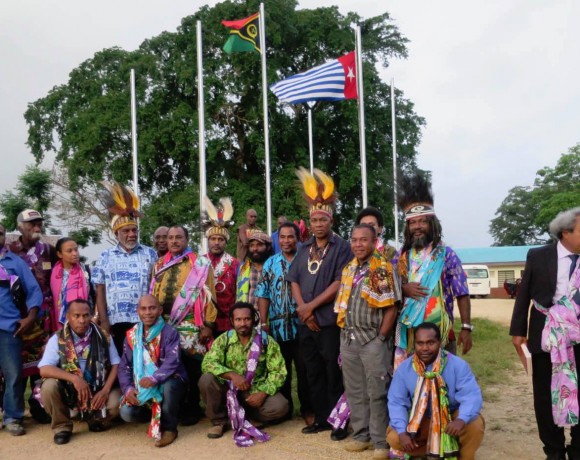 Port Vila, Vanuatu
In a historic gathering of West Papuan leaders in Vanuatu, different factions of the independence movement have united to form a new body called the United Liberation Movement for West Papua (ULMWP).
This new organisation unites the three main organisations who have long struggled for independence in their own way. By coming together to present a united front, this allows us to re-submit a fresh application for membership of the Melanesian Spearhead Group (MSG) as well as countering Indonesian claims that the West Papuan groups are divided. The negotiations and kastom ceremonies attended by leaders of all the major groups and observed by the chiefs, churches and the government of Vanuatu demonstrates that now we West Papuans are united in one group and one struggle.
The key groups who have united include the Federal Republic of West Papua (NRFPB); National Coalition for Liberation (WPNCL) and National Parliament of West Papua (NPWP). An external secretariat consisting of five elected members from the various groups will now co-ordinate the ULMWP activities. Octovianus Mote has been elected as General Secretary of the ULMWP while Benny Wenda is the spokesperson and the other three elected members are Rex Rumakiek, Leone Tangahma and Jacob Rumbiak.
General Secretary Mote said at the close of the unification meeting "I am honoured to be elected and very happy we are now all united. The ULMWP is now the only recognised co-ordinating body to lead the campaign for MSG membership and continue the campaign for independence from Indonesia."
The ULMWP wishes to express its profound gratitude to the government of Vanuatu, the Malvatuamuri Council of Chiefs, the Vanuatu Christian Council of Churches and the Pacific Council of Churches who have facilitated the week-long meeting of delegates, who have come from inside West Papua and around the world, to unite after 52 years of struggle.