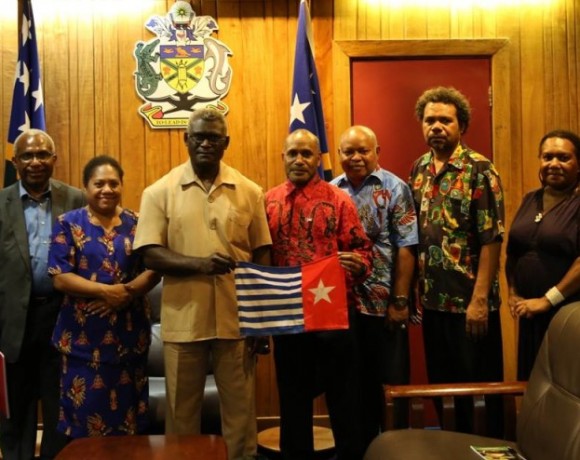 Prime Minister Hon Manasseh Sogavare has assured a West Papua Delegation of his determination as Chair of the Melanesian Spearhead Group (MSG) to continue to push for the freedom of West Papua from all forms of human rights abuses and oppression in that region.
Hon Sogavare made the assurance in Honiara today during a courtesy meeting with a visiting eight member West Papuan delegation in his capacity as Chair of the MSG.
The group thanked Prime Minister Sogavare for his bold stand as a Melanesian leader to push for the admission of West Papua as an Observer member of MSG during its meeting in Honiara in June this year.
They described Hon Sogavare as a "shining" example of firm leadership not only in Melanesia but internationally for his courageous decisions and ongoing support to ensure human rights abuses and the oppression of West Papuans is stopped.
Prime Minister Sogavare told the delegation that the MSG is founded on decisions and principles of tolerance and human rights and he is aware that many ordinary Melanesians have supported the West Papuan struggle against oppression and he will ensure the issue is dealt with properly during his Chairmanship.
He said the decision to send a fact finding mission by the Pacific Islands Forum to Indonesia is the first step towards establishing dialogue with Indonesia to find an agreeable solution to the West Papuan problem.
The MSG Chairman added that the admission of West Papua as an Observer member into the MSG will not stop there but continue until West Papua achieves its objectives.
"The MSG will continue to tackle issues that others are afraid of as the West Papuan struggle remains a slap on the face of bigger countries that advocate democracy, peace and human rights continue to allow what happened in West Papua to continue," he said.
Prime Minister Sogavare encouraged the West Papuan leaders and civil society groups to continue peaceful dialogue with Indonesia as an avenue to find a lasting solution to the West Papuan course.
The West Papuan delegation consist of representatives from the West Papuan Political Leadership, Civil Society, NGO's, Churches and Academics.