Jacob Rumbiak, Spokesperson for the United Liberation Movement for West Papua (ULMWP), today suggested that President Jokowi volunteers remove Indonesia from the UN Security Council after extreme levels of state-violence against West Papuan students in Malang, Sulawesi, and Bali (as well as in West Papua) on 1 July 2018.
In Malang, Military and Police, as well as Intelligence agents supported by State-trained militia, violently attacked fifty-six members of the Papua Student Alliance (AMP) who were watching a video during a commemoration seminar of nation-making and resistance.  Despite attempts by the students to negotiate, they were spat on and hit with guns, their laptops and mobile phones were destroyed, eight of their motorbikes were demolished, office materials and kitchen furniture extirpated.  Several students were bound and dragged along asphalt roads, leaving them with deep wounds and fractured skulls.  The brutal onslaught took place less than 100 metres from a police station.
The state attacks coincided with the release of a document by Amnesty International Indonesia, Don't bother, just let him die, Killing with impunity in West Papua, which in Australia was reported by The Age, Herald Sun, and Australian Financial Review newspapers.  Amnesty claims that Indonesia is responsible for "one unlawful killing per month [of West Papuan activists] for the past eight years … with a near-total absence of justice for the indigenous victims".  Amnesty's two-year study found that of the 69 cases of suspected unlawful killings examined, 41 occurred in the context of events that were unrelated to calls for independence or a referendum for Papua.
"In West Papua Indonesia constantly violates its own constitution (which protects freedom of speech, association, and assembly) let alone all the international human and civil rights laws" furthered Rumbiak. "President Jokowi is surrounded by generals associated with heinous crimes, but I believe he can still phone the UN Secretary-General and save his people the humiliation of being on the Security Council while his state continues to commit crimes against West Papuans and reports like these continue to be published."
Jacob Rumbiak
ULMWP Spokesperson
Names of some of the students attacked in Malang on 1 July 2018: Yohanes Giay, Timenius Gwijangge, and Yustus Yekusamon (all with fractured skulls after being hit with guns); Maikel Takimai and Moses Pekei (heavy head wounds from being kicked and stamped on), Ima Felle,  Ferry Takimai and Timinus(tortured while being dragged along an asphalt road).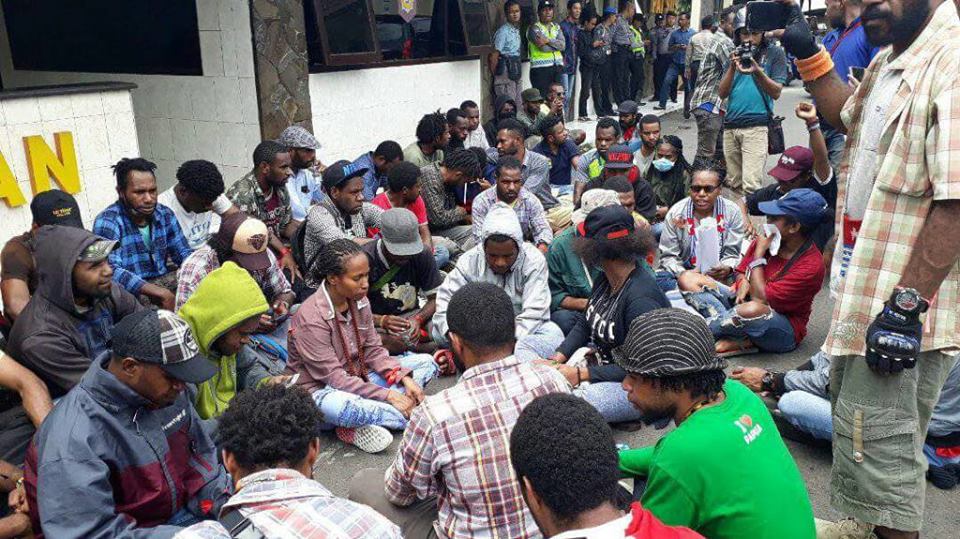 Photo information: Members of the West Papuan Students Alliance (AMP) being arrested at a Free West Papua rally to reject "Operation Trikora" in Malang. Less than 7 months ago AMP, together with the Indonesian People's Front for West Papua (FRI-West Papua),  and The West Papua National Committee (KNPB) held rallies in 14 Indonesian cities. During the rallies 66 people were arrested and 4 were beaten by Indonesian police forces.
Photo credit: AMP.