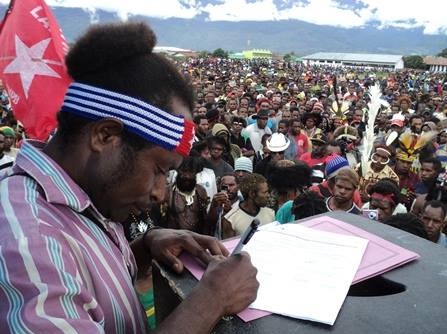 A forty minute video has been produced, showing the names of so far of over 157,427 West Papuans who in just a few weeks have all signed a petition supporting the United Liberation Movement for West Papua (ULMWP) representing them in the Melanesian Spearhead Group (MSG).
This petition was signed by over 100 times more West Papuans than Indonesia's sham so called "Act of Free Choice" in 1969 which consisted over only 1,026 West Papuans being handpicked by the Indonesian government and forced at gunpoint to vote for Indonesian rule.
There has been a brutal crackdown on West Papuans showing support for the ULMWP and the main petition post in the capital city was destroyed by the Indonesian police. There has also been a ban on organising demonstrations, protests and Free West Papua gatherings with over 400 people arrested last month. It was therefore very difficult for activists to organise signings and most of them happened in a few major West Papuan towns.
Nevertheless, in just a few weeks over 150,000 West Papuans have so far actively signed the petition, showing strong evidence for the West Papuan people's desires for the ULMWP to represent them within the MSG. Had this have been a free, safe and fair vote held all over West Papua then we are fully confident that by far the vast majority of West Papuans would have signed it and expressed their desires to come back to the Melanesian family of the MSG.