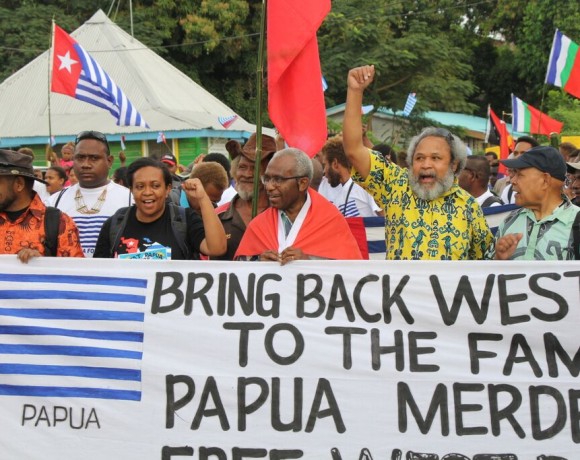 Today the sub-regional body, the Melanesian Spearhead Group (MSG) will meet and begin to decide on full MSG membership of Indonesian occupied West Papua.
Background
The Melanesian people of West Papua applied for MSG membership in January through the umbrella organisation the United Liberation Movement for West Papua (ULMWP) which was formed after MSG leaders asked West Papuans to apply for membership with a united group. West Papua joining the MSG will be a very significant step for the whole of Melanesia as it will be the first and critical recognition of West Papuans as Melanesian people with the rights to nationhood. West Papuans will finally be welcomed back into the Melanesian family.
People in West Papua calling for the leaders of Melanesia to support them joining the MSG
Support for West Papua

Melanesian solidarity has recently reached a new level as the last few weeks have seen thousands upon thousands of people from right across all the Melanesian countries taking part in demonstrations supporting West Papua joining the MSG. More rallies are also planned to be held.
The people of West Papua have risked their very lives just to express their desires to come back to the Melanesian family and it is reported that between 1st of May and 1st June over 450 West Papuans were arrested by the Indonesian authorities just for supporting MSG membership for the ULMWP. It is estimated that over 200 West Papuans were also tortured by the Indonesian authorities, either during these demonstrations or in detention.
Furthermore, 2 days ago a petition was published with the signatures of over 150,000 West Papuan people who expressed their full support of the ULMWP to represent them within the MSG. This petition has already managed to raise this huge number of signatures despite an Indonesian government ban on pro-ULMWP support and heavy crackdown including the destruction of the main petitioning post.
There has not been one single demonstration or petition supporting the Indonesian government joining the MSG from any West Papuan.
Rejection of Indonesia in the MSG

In an attempt to stop West Papua joining the MSG, the Indonesian government has stated its aim to join the group itself to "represent" West Papuans and Indonesian citizens in 3 other provinces of Indonesia.
The Indonesian government has no basis to claim that it represents that it represents the people of West Papua and there is no reason why they should be allowed to represent West Papua within the MSG.
The people of West Papua are ethnically, culturally and historically Melanesian and therefore West Papua is an integral part of Melanesia, it shares no pre-colonial history with Indonesia. Ever since West Papua was illegally occupied by Indonesia over 500,000 Melanesians have been killed and many more continue to be so.
Melanesians in West Papua being led away like slaves by the Indonesian authorities for attending a pro-independence congress
It should also be noted that the Front de Libération Nationale Kanak et Socialiste (FLNKS) of Kanaky/New Caledonia has MSG membership even through it is part of France. Membership of France itself was never considered because France is not a Melanesian country.
Indonesia is also not a Melanesian country. So why should Indonesia be granted MSG membership?
Recently, the world has witnessed the Indonesian government boasting that it will use its "economic diplomacy" to stop support for West Papua and we have seen the Indonesian government going to various Melanesian countries and promising millions of dollars to the governments, asking them in return to support Indonesia, rather than West Papua joining the MSG.
But what is more important for Melanesia, blood money or Melanesian lives saved?
We are confident that the leaders of the Melanesian countries will show true Melanesian solidarity and take the moral decision in welcoming West Papua back into its rightful place in the Melanesian family, rather than opening the door for the killers of Melanesians.
Melanesia is not a playground for Indonesia and Melanesians are not slaves. The Indonesian government has no right to try and bully Melanesian nations into submission and we are confident at the growing sentiment and Melanesian solidarity between Melanesian nations against Indonesia's colonialism in West Papua.
The future of Melanesia

The future of Melanesia hangs in the balance this month with the Melanesian Spearhead Group having to decide whether to welcome West Papua back into the Melanesian family, or allow Indonesia to dictate its own colonial style policy on Melanesians.
We are incredibly encouraged by all the massive support and true solidarity we have seen from all across Melanesia and right around the world supporting West Papua's membership of the MSG. There have been literally hundreds of thousands of people showing support for West Papua from around the world and this has opened a new chapter in solidarity for West Papua which keeps growing and growing every day.
The fate of Melanesia as we know it now depends on the MSG, does it represent the interests of Melanesia or Indonesia?
We believe that one day solidarity will prevail and that West Papua will be an MSG member and one day a free and independent Melanesian nation once again.