I am very sad to hear news from on the ground in West Papua that 95 people have been forcibly displaced from Yapen Island, off West Papua's northern coast. Every corner of West Papua is now experiencing the violent military displacement situation which began in Nduga Regency, where over 50,000 people have been forced to flee their homes since 2019. Indonesia must immediately withdraw their military from Yapen Island and allow all internally displaced people to return home.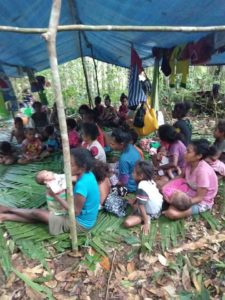 Yapen Island is a peaceful place. The displacements now occurring there are a direct result of the Indonesian colonial occupation, which gives the military impunity to terrorise the indigenous Papuan people. The military presence in Yapen, as in all West Papua, is illegal. The Act of No Choice was a fraud, not a referendum conducted according to one man one vote. West Papua has never been allowed to exercise its right to self-determination – this is the fundamental cause of all issues in my country today.

Yapen residents had organised a peaceful prayer meeting on December 1st, West Papua's national day. In response, the military arrived at Kaonda village and immediately began intimidating people. Three houses were demolished by the military, who also stole property including fishing equipment and food. Residents then fled into the forest, where they remain, too frightened of further military actions to return home.
The displaced include 43 children and babies as young as 6 months. There are also a number of elderly people and a heavily pregnant woman among the refugees. This pregnant woman may be forced to give birth in the bush, as has happened countless times in other parts of West Papua since 2019.
As I have said before, Indonesian military operations are about business and control, not security. They are designed to frighten West Papuans, to use harassment and an atmosphere of fear to remove them from their land. By wiping out villages such as Kaonda, Indonesia is able to clear the way for more 'development', including illegal mines.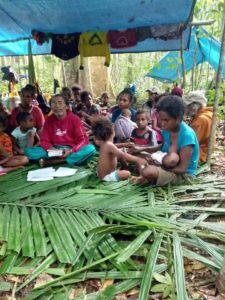 Indonesia wants to keep us scared as a way of keeping us silent. We see this in the treatment of the KNPB, who are constantly attacked and threatened, simply for speaking up for West Papuan rights. The latest incident of anti-KNPB harassment came on December 10th, UN Human Rights Day, as KNPB demonstrators led by Halen Hisage were prevented from attending a peaceful protest.
Once again, Indonesia is demonstrating that freedom of expression doesn't exist for West Papuans. As Interim President of the ULMWP Provisional Government, I am calling on Indonesia to immediately release the West Papuan students arrested in November for commemorating the anniversary of Theys Eluay's death. They may yet be charged with treason and sentenced to prison, all for partaking in a peaceful protest in memory of one our national heroes.
Ultimately, this issue will not end until the Indonesian President agrees to sit down with me and discuss an independence referendum, which is the only lasting peaceful solution in West Papua. To achieve this, Indonesia must honour their commitment to allowing a UN visit to West Papua, in line with the call of more than 80 countries. They must allow international media and NGOs into West Papua to report on the crimes of occupation.
If the international community wants peace in West Papua, they must ensure that Indonesia's occupation is exposed to the eyes of the world.
Benny Wenda
Interim President
ULMWP Provisional Government