On November 30th, the Pacific Conference of Churches (PCC) called for a boycott of all Indonesian products until Indonesia facilitates a visit to West Papua by the UN High Commissioner for Human Rights (UNHRC).
The ULMWP supports this call. Now is the time for all our supporters to take vital non-violent action to address the crisis of militarisation in West Papua.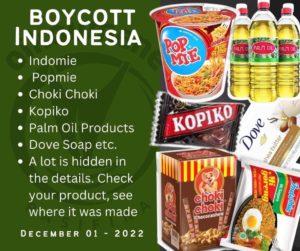 By calling for a boycott of Indonesian products, the PCC are showing that ordinary people are not powerless against the brutality of Indonesian occupation. Everyone can take action to support our struggle. The whole world uses Indonesian palm oil from Merauke and Indonesian gold from the Freeport mine. People must understand that these products come from indigenous Papuan land, that our mountains destroyed by mines and our forests by oil palm plantations.
Our Christian brothers and sisters in the PCC have consistently drawn attention to the deteriorating human rights situation in West Papua, including cases of torture, extrajudicial killings, and systemic police and military violence. According to the United Nations, up to 100,000 West Papuan civilians have been forcibly displaced by Indonesian military operations in the past four years. In Nduga, in Puncak Jaya, in Oksibil, and across all seven West Papuan regions, men, women and children have fled into the bush, where they lack food, water, and access to adequate medical facilities. Our churches have been burnt to the ground, or occupied and used as military bases.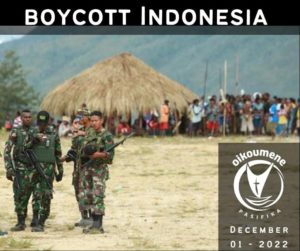 PCC General Secretary Reverend James Bhagwan stated: "The call for a boycott comes in response to the lack of political will by the Indonesian Government to honour their commitment to this visit which was made 4 years ago". Over 80 countries, including all member states of the Pacific Islands Forum (PIF), the Organisation of African, Caribbean, and Pacific States (OACPS), and the European Commission, have now urged the Indonesian government to allow a UN visit. For decades, West Papuans have cried that Indonesia is bombing our villages and destroying our land; now, the world is finally hearing our cry. People everywhere are using their voices to support West Papuan rights. With this boycott, we are reaching a new level in our popular international struggle.
In their statement, the PCC warn that Indonesia is using 'cheque book diplomacy' to silence our Pacific neighbours on the issue of West Papua. We have seen this pattern time and time again: Indonesia hears the increasing calls for a UN visit, but is deploying delaying tactics to avoid exposing its illegal occupation to international scrutiny. Pacific and Melanesian nations must remain strong and united in their advocacy for fundamental human rights. We are one people, united and not divided by our blue Pacific ocean.
The ULMWP therefore echoes the PCC call for a boycott, until Indonesia facilitates a UN visit to West Papua and allows both international and domestic media to report on the situation in our land.
God bless all those who hear this call and support our fight.
Benny Wenda
Interim President
ULMWP Provisional Government