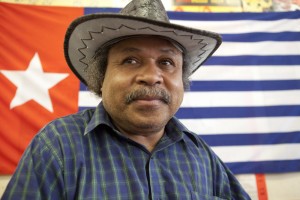 Statement of Full Support
I belong to the Federal Republic of West Papua (FRWP) which has as its basic principles cooperation and mutual support among organizations. The FRWP is one of the three resistance organizations working for an independent West Papua which in 2014 joined the cooperative entity called the United Liberation Movement for West Papua (ULMWP). We believe that principle of mutual cooperation should be upheld, supported and guarded so that when we are asked to provide support to the effort of the International Parliamentarians for West Papua domiciled in the UK we gladly oblige.
As I have indicated above, as the person with responsibility for the West Papuan struggle throughout Australia with my representative Mr Ronny Kareni along with all of our supporters throughout Australia, and Torres Strait Islands, I wish to assure you of our back-up to the Free West Papua Campaign and the IPWP and fully support the Westminster Declaration that took place on May 3rd 2016, and its supporting petition launching on 24 January 2017.
Our prayers are being made for the hard work that has done in the past, what is being done now and all that will continue to be accomplished in the future by the International Campaign for West Papua and ILWP. May all run smoothly and may we see further success over this new year 2017.
We are here for you anywhere, anytime. United we will be very strong to move forward hand in hand to realize the aim of a Free West Papua.
May Almighty God be with all of us always.
Yours Sincerely,
Jacob Rumbiak
Executive Officer of United Liberation Movement for West Papua /ULMWP