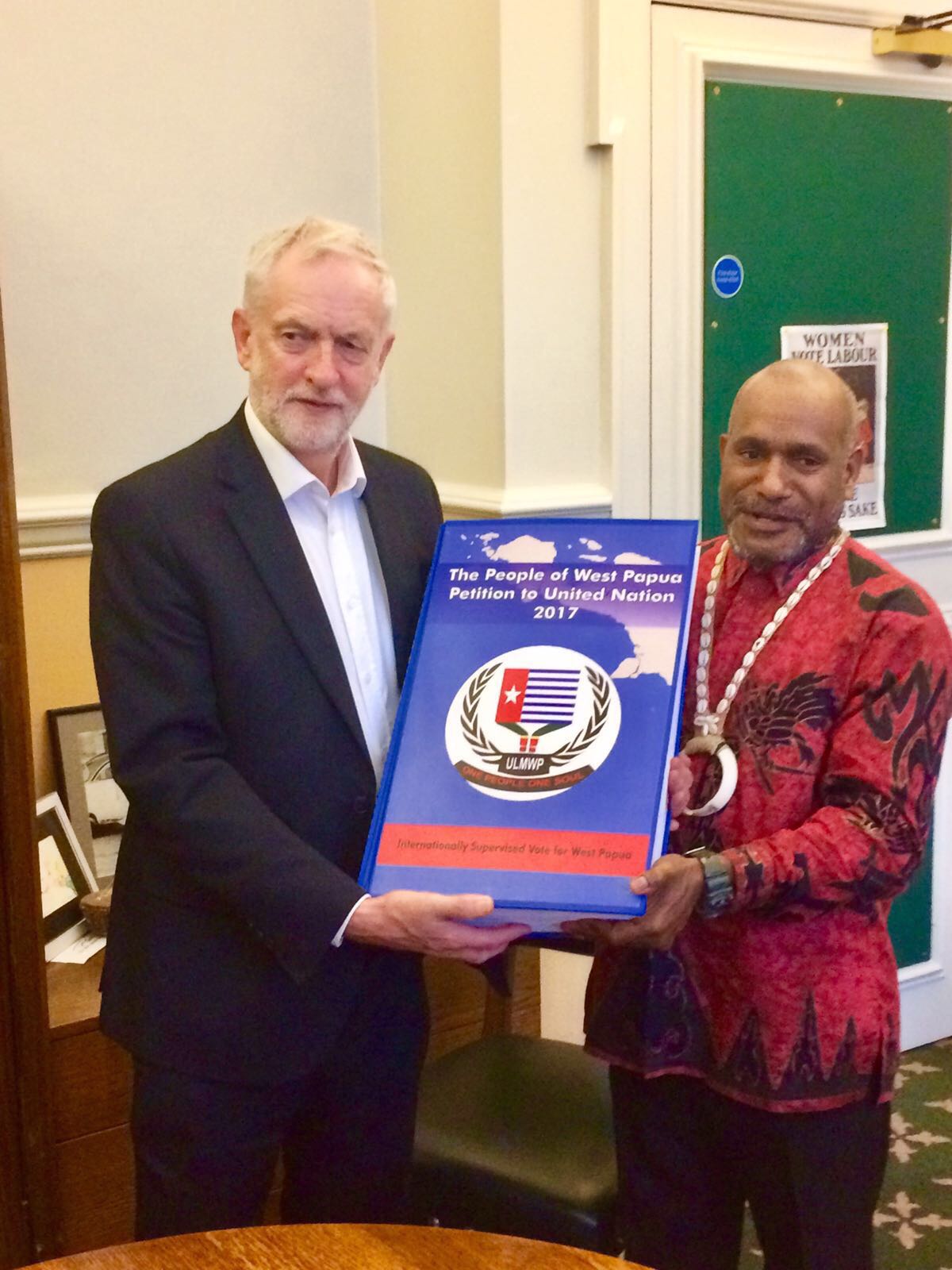 On 7th September 2017, West Papuan Independence Leader and Spokesperson for the United Liberation Movement for West Papua, Benny Wenda met with the Official Leader of the United Kingdom Opposition, The Rt. Hon. Jeremy Corbyn MP.
Jeremy Corbyn and IPWP 
A founding member of the International Parliamentarians for West Papua (IPWP) which supports the West Papuan people's fundamental right to self-determination, Jeremy Corbyn is a long time supporter of West Papua. Since the birth of IPWP, the organisation has now spread across the world and has been launched in the Australian Parliament, Aotearoa New Zealand Parliament, Papua New Guinean Parliament and many others.
In 2016, Jeremy Corbyn attended and supported the historic Westminster Declaration for an Internationally Supervised Vote in West Papua. During the meeting Jeremy Corbyn spoke of his personal interest in West Papua and and stated that the world could either continue having this conflict or could choose to live in a world of peace and justice which would come from the recognition of human rights for everybody – a cornerstone of foreign policy.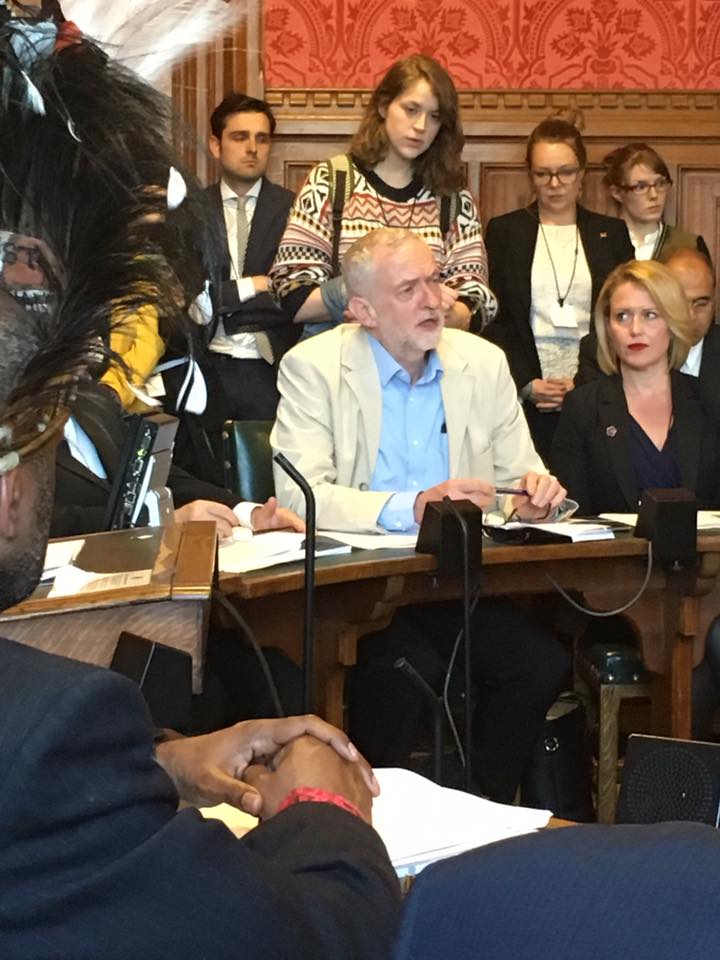 He reiterated his support for the struggle for freedom of West Papua and how he would like this to be written in the policy of the British Labour Party. He stated "Essentially what we're looking at is a group of people who did not enjoy their rights during a period of decolonisation, did not enjoy the rights bestowed to them by the UN charter and by the statutes on decolonisation,".
"As a member of parliament I support them, as a member of this group and as a former vice-chair of the all-party human rights group."
"I want these issues to become central to our party's policies in the future and above all I want to see an end to environmental degradation and destruction and the right of people to be able to make their own choice on their own future."
Following this, the people of West Papua demonstrated across the country to show their thanks and appreciation to for Jeremy Corbyn's support.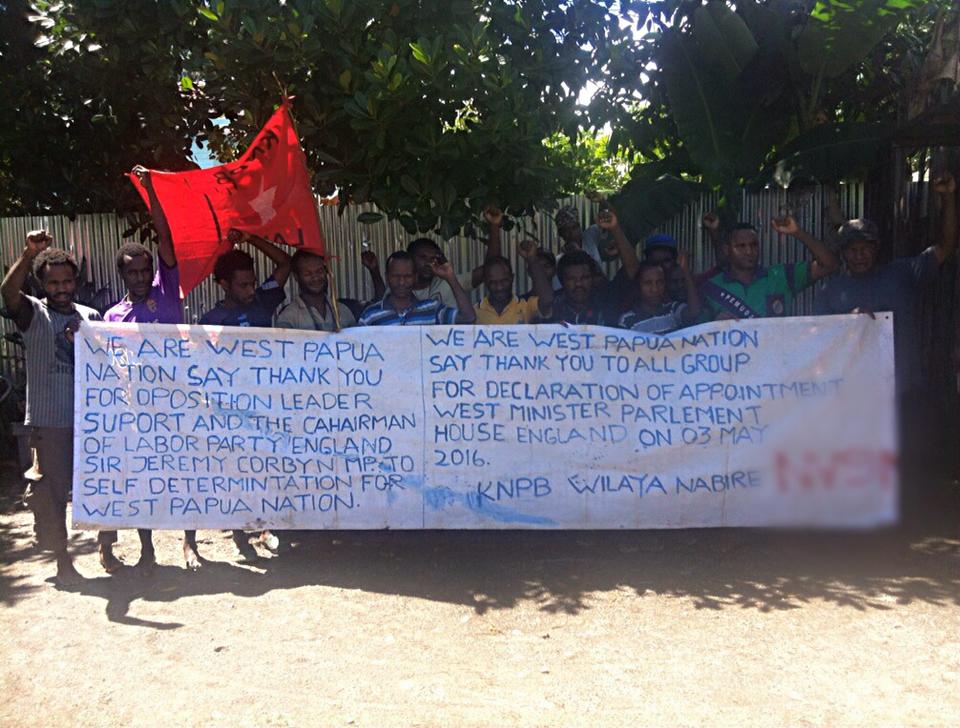 West Papuan People's Petition 
Following the Westminster Declaration, the people of West Papua this year organised a mass mobilisation of collecting signatures for a national petition in support of an Internationally Supervised Vote. This West Papuan People's Petition was also run in tandem with an identical Global Petition for West Papua, currently signed by over 150,000 people. The Global Petition will remain active until mid-September and you can still Sign and Share it here. The full number and details of the West Papuan People's Petition will be announced at New York in the coming weeks.
On presenting the petition to Jeremy Corbyn, Benny Wenda has released this short statement:
"On 7th September, I brought the West Papuan People's Petition to Rt. Hon. Jeremy Corbyn, a founding member of the International Parliamentarians for West Papua. Jeremy Corbyn is a lifetime, tireless supporter of my people and he gave his blessing and full support behind the West Papuan People's Petition for self-determination. Now as UK Opposition Leader, his support is extremely important for West Papua and we are very glad that Jeremy Corbyn could see this petition, the fruit of the Westminster Declaration he endorsed last year.
"On behalf of the United Liberation Movement for West Papua and the people of West Papua I would like to extend my deepest thanks to Jeremy Corbyn for continuing to support our struggle for self-determination. We hope that his support will encourage other international parliamentarians everywhere, including Opposition Leaders and Heads of Governments, to follow his example in supporting the West Papuan people's fundamental right to self-determination. We need support from all sorts of political parties and I encourage all international supporters to help lobby their own MP or other representative to join International Parliamentarians for West Papua and support West Papuan self-determination."