Published on Monday, 08 October 2018 on www.humanrightspapua.org
The third quarter of 2018 was characterized by a considerable increase in political arrests resulting from police action during the dispersal of various peaceful demonstrations. The majority of political demonstrations were organised in relation to the 73rd General Assembly Session of the United Nations, during which Vanuatu and other Pacific countries had raised the West Papua issue. Political activities within the Papuan civil society appear to have significantly risen in September 2018 in correspondence with international political events outside Indonesia.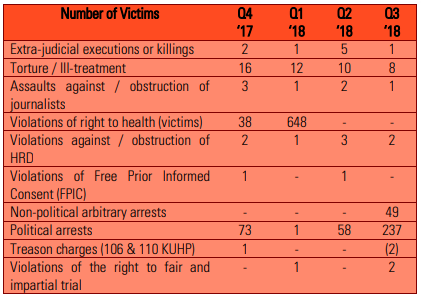 Download full report as PDF file here
Besides these quantitative observations, this reporting period is characterized by a series of harassments against Papuan students which indicate patterns in the strategy of law enforcement institutions. The 'Papuan Student Alliance' (AMP) reported four such cases in the Province of East Java. The cases show a similar pattern, where police closely cooperates with nationalist mass organisations (ORMAS) and local government officials to prevent Papuan students from engaging in peaceful political activity. The strategy seems to have the purpose of intimidating the Papuan students and to make these operations appear to be legal law enforcement operations. In all four cases, police officers did not present a warrant or other document as a legal justification for police officers entering and searching the dormitory premises. The arrest of Polish citizen Jakub Skrzypski has drawn the attention of international news outlets and human rights organisations. Skryzipski could be the first foreigner to be prosecuted with charges of treason, carrying a maximum sentence of 20 years imprisonment. Sources indicate that Indonesian police used mobile phone images of him holding guns as evidence of being an arms dealer. The police claims that they found ammunition as well.
Read what UN mechanisms observe and recommend regarding human rights in West Papua.
The information in this report is collected by local human rights defenders. As human rights defenders face hostile working conditions and legal aid services are lacking in remote areas, this compilation of cases cannot be regarded as complete.
Download full report as PDF file here
Reports included in the ICP third quarter.
*All dates are when reports were published to ICP.
Police officers intimidate female Papuan students in Malang, East. Java Province
Papuan human rights defender under police surveillance
17th August Five military members injured during accompaniment of electricity survey team