The United Liberation Movement for West Papua today opened a new office in Wamena, West Papua, with the support of the Chairperson of the Melanesian Spearhead Group and Prime Minister of the Solomon Islands, Hon. Manasseh Sogavare.
Over 5,000 people attended this historic launching which marks a new era in our people's history as the United Liberation Movement for West Papua is now spreading around the country, uniting West Papuans from all the different tribes and villages with one common agenda – Independence.
The opening of the office has made the Indonesian government furious. They first denied that it had happened at all and then said that they had torn down the ULMWP office signpost and arrested two of the main organisers, Markus Haluk and Edison Waromi.
The Indonesian Indonesian government through its official Coordinating Minister Luhut Binsar Pandjaitan dramatically overreacted and demand that theUnited Liberation Movement for West Papua "leave Indonesia." Luhut Binsar Pandjaitan does not have a right to talk about West Papua when talk about West Papua because he and his military's presence in West Papua is illegal under international law.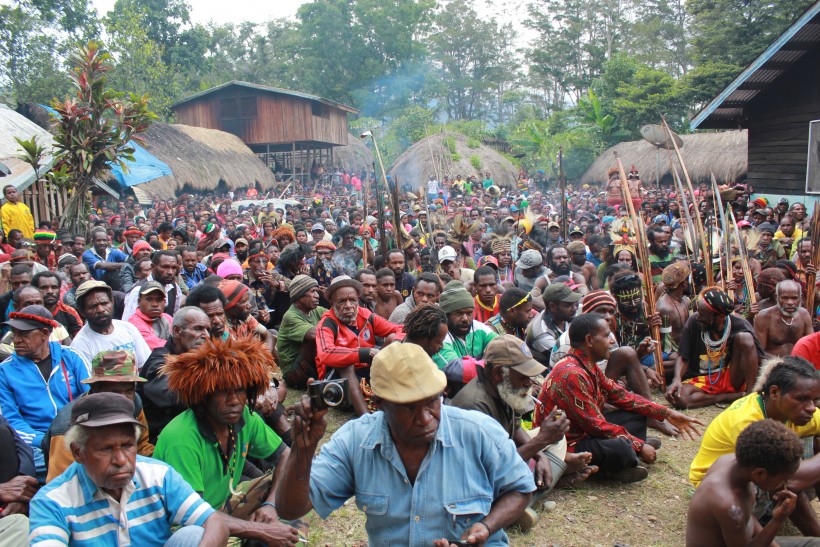 We West Papuans do not want the Indonesian government to continue to illegally occupy our country and kill our people. Over 500,000 innocent West Papuan people have been killed ever since Indonesia illegally occupied West Papua and took control at gunpoint through the so called 1969 Act of Free Choice (known to West Papuans as the illegal Act of NO Choice). The threats of Luhut Binsar Pandjaitan bring back painful memories for my people because just before the Act of NO Choice 50 years ago, Indonesian General Ali Moetoerpo told West Papuan leaders, who would participated in the act that, "Indonesia did not want people of West Papua, Indonesia just wanted the land and natural resources of West Papua.  If you want to be independent, ask God to find you another Island in the Pacific. Or, perhaps write to the Americans, they have already set foot on the moon, and might find you a place there."
When we hear the Indonesian government repeating the same old lines as this, it just goes to show the world that nothing has changed. While there may be democracy in Indonesia, there is certainly no democracy in Indonesian occupied West Papua where the Indonesian authorities rule over us with a rod of iron, persecuting anyone who speaks out.

The United Liberation Movement for West Papua will never leave West Papua. It is part and parcel of the West Papuan people. We are the voice of our people who have been screaming for Independence ever since our country was illegally occupied by Indonesia. West Papua is our home. We are not leaving.
West Papua belongs to the people of West Papua, not Indonesia. When is the Indonesian government going to get it into their heads that they do not own West Papua, nor the people of West Papua?

The fact is, The United Liberation Movement for West Papua will not leave West Papua. Indonesia must leave West Papua and let the West Papuan people exercise our fundamental right to self-determination so that we can live as free people in our own free land.
We will continue to peacefully campaign around West Papua, around the Pacific and around the world until West Papua is finally Independent and free at last.