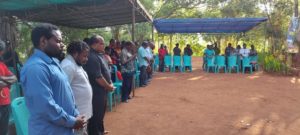 West Papuans have has held mourning ceremonies following the death of Pastor Allen Nafuki, a ni-Vanuatu independence advocate, Church leader, and longtime champion of the cause of West Papuan freedom. 
In Jayapura and Wamena, fasts and prayer meetings were held by the ULMWP in honour of the late Pastor, who dedicated much of his life to the collective liberation of Melanesia. As Chair of the Vanuatu West Papua Unification and Association Committee, he worked to bring unity to the different West Papuan factions, a significant and necessary step towards independence. 
Pastor Allen saw clearly that the destiny of all Melanesian countries is intertwined – that 'all Melanesia shall be free when every Melanesian is free'. It was because of this conviction that he worked for Vanuatu's independence from Britain and France in the 1970s by tirelessly campaigning for the freedom of West Papua and Kanak. As interim President Benny Wenda put it, his efforts helped bring West Papua 'closer than ever to the Melanesian family'.
Alongside his position as Chair of the Unification Committee, Pastor Allen was Chairman of the Vanuatu branch of the Pacific Council of Churches and a supporter of the Nuclear Free and Independent Pacific (NFIP) movement. In all his roles he worked closely with different Melanesian governments.
The ULMWP's mourning ceremonies were part of a wave of tributes to Pastor Allen, with people from across the Pacific recognising his unique contribution to the struggle against Indonesian colonialism. Markus Haluk, Executive Director of the ULMWP, called him a 'shepherd and figure of truth for both Vanuatu and West Papua'.
The West Papuan people have lost a great friend and relentless advocate. The ULMWP will honour his spirit by continuing the struggle for self-determination.