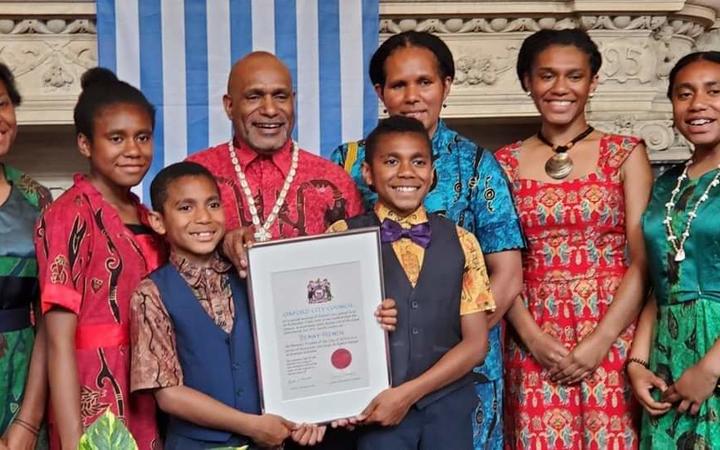 On Wednesday 17th July, Benny Wenda the Chairman of The United Liberation Movement for West Papua (ULMWP) received Freedom of the City of Oxford for his role in campaigning tirelessly for West Papua's fundamental right to self-determination.
Oxford City Council's official footage of the event can be seen below. 
Speakers in support of the Freedom of the City Award being conferred to Benny Wenda included The Lord Mayor of Oxford – Councillor Craig Simmons, Annalise Dodds MP, Vanuatu Ambassador to the European Union – John Licht, the Author and Environmentalist George Monbiot and Councillor Dr Hosnieh Djafari-Marbini. Statements of support from The Rt. Hon. Jeremy Corbyn – Leader of the UK Labour Party and Caroline Lucas – Green Party MP were also read out.
Benny Wenda's acceptance speech upon receiving Freedom of the City can be read below: 

Your Excellencies, Honourable Members of Parliament, Lord Mayor, Distinguished Guests, Ladies and Gentlemen, 
It is a true honour to be with you all here today. May I begin by greeting you all on behalf of my people, a nation numbering two and a half million, in our traditional language – "Wa wa wa". 
When I was a small boy, just about 5 years old, the Indonesian military bombed my village, killing family members in front of my eyes. 
I grew up in the jungle for almost five years. I saw many of my young friends die from malaria and starvation. It was in God's good will that I survived. 
When I went to high school, an Indonesian settler girl spat in my face on the first day. I did not understand – I thought maybe I smelled bad. That evening, I washed myself three times over with soap. The next day, the girl spat in my face again, in front of the whole class. Then I understood – from now on we were not all to be treated equally. Indonesia sees West Papuans as different, as inferior, we are blacks and they are not. Indonesia treats us like second class citizens in our own land. 
Growing up, I saw so much violence, discrimination and brutality inflicted by Indonesians on us the native West Papuans. I was born with this issue, I have grown old with it, this struggle is therefore in my blood. 
West Papua is one of the richest places on this planet, we have gold, copper, oil, natural gas, timber, exotic species and minerals. The Indonesian state has always wanted our resources and is willing to eliminate the people of West Papua where it can to get our wealth. 
At University, I stood up with others for our rights to self- determination, independence. For this activity, I was imprisoned and tortured. As I lay chained in solitary confinement for over a month and facing 25 years in an Indonesian prison on false charges, I knew I had a mission. I had to tell the world what is happening to the people of West Papua. 
The limp in my leg from the bombs dropped on my village when I was five, the scars on my ankle from the prison chains, are what I carry with me everywhere I go. They are the physical reminders of the sufferings of all my people. These are reminders that colonial exploitation continues in this 21st century in West Papua. 
Although I am honoured to receive this Freedom of the City Award, I am not truly a free man! I will not be free until I can return to my homeland, a free and independent West Papua. I did not come to Oxford seeking a better life, but with a mission. Until we can stop the genocide of our people, until we can stop the destruction of our forests, our mountains, our rivers, until the killings and torture ends, until our Morning Star flag can be raised without being shot and imprisoned, I will not be free. Today is another step along that long road to home. This is my personal story, but nearly every West Papuan has their own similar story to tell. 
This historic city has always recognise the struggle of oppressed people, so Nelson Mandela received the Freedom of the City award. This award is for the people of West Papua to recognise their voice, their cry for justice and freedom for the last 58 years. 
On behalf of the people of West Papua, I say thank you. This award is very significant to West Papuans who for several days, have been risking their lives, marching and praying, thankful for your solidarity. 
My profound gratitude to the Lord Mayor, The City Council, and the former Mayor, for conferring this award, and to Lizzie Hawkins' team for organising this event. 
Time will not permit me to thank every individual person who has given assistance to me and my family in this struggle, but I do want to name a few people: 
Firstly, my dear wife Maria, who has raised our children selflessly, when I have been away. I couldn't have done it without you. 
The Free West Papua Campaign was set up in 2004 with the vital assistance of so many people in Oxford who are here today, thank you ever so much. I also want to thank the British Parliamentary groups for West Papua, led by: Alex Sobel, Lord Richard Harries, Anneliese Dodds, John Howell, Caroline Lucas, and Lord Lexden, including to the International Lawyers for West Papua. My deep gratitude also goes to the Bertha Foundation, London, for their continued invaluable support. 
Thanks to the Foundation for Law, Justice and Society at Wolfson College, and the researchers in the Department of Politics at The University of Warwick for what they have published. 
I must also thank the Prime Minister, the government and people of Vanuatu, who for decades have led the way with their unending sacrifice and support. 
Ambassador John Licht and Noah Kouback who are here. I thank the Governments of the Solomon Islands, Papua New Guinea and all the Pacific nations. I thank all the activists and churches across Melanesia and the Pacific who tirelessly support us, and the international solidarity groups across the globe from Australia to South Africa. 
Special thanks to the United Liberation Movement for West Papua, and our diplomats across the world. 
Finally, to my people back home, elders in the bush, in the refugee camps, in exile, wherever you are, this Freedom of the City of Oxford is your award. It is for your hard work and for your tireless campaigning. Continue your struggle to liberate yourself from tyranny. We have made progress on many fronts and on the international stage, at the UN Human Rights Commission and the UN Decolonisation Committee where we presented our petition signed by 1.8 Million indigenous West Papuans. 
In conclusion, each one of you can help make history no matter how little, you can help the struggle to free the people of West Papua. In fact, you are already part of history today by being here. Your prayers, contribution and solidarity will be forever cherished in the hearts of the people of West Papua. 
With humility and sincere gratitude, I say thank you Oxford. We hope in God's Mercy. Papua Merdeka!

Benny Wenda
Chairman of The United Liberation Movement for West Papua (ULMWP)